Saturday was the third and final day of the Sunset Strip Music Festival. Since we went last year, we went again to follow our new tradition.
We got there around 3:40. Welcomed by the hot, burning sun we tried to walk around but we were practically baking in the sun. So we went inside the Roxy to cool down just as Matt Skiba had just finished. A band called Wallpaper went up and their awesome drum beat got the crowd dancing. Well, except for the ones who just came in, panting and fanning themselves off.
We ventured outside again, and we saw someone that seemed rather familiar. My mom knew him from Tommy Hilfiger ads and MTV (as a VJ). We looked him up and he turned out to be Simon Rex also known as "Dirt Nasty". We WERE going to ask for a photo with him, but instead he called us over. (I guess we look interesting...?) We talked with him a bit and took our photo with him.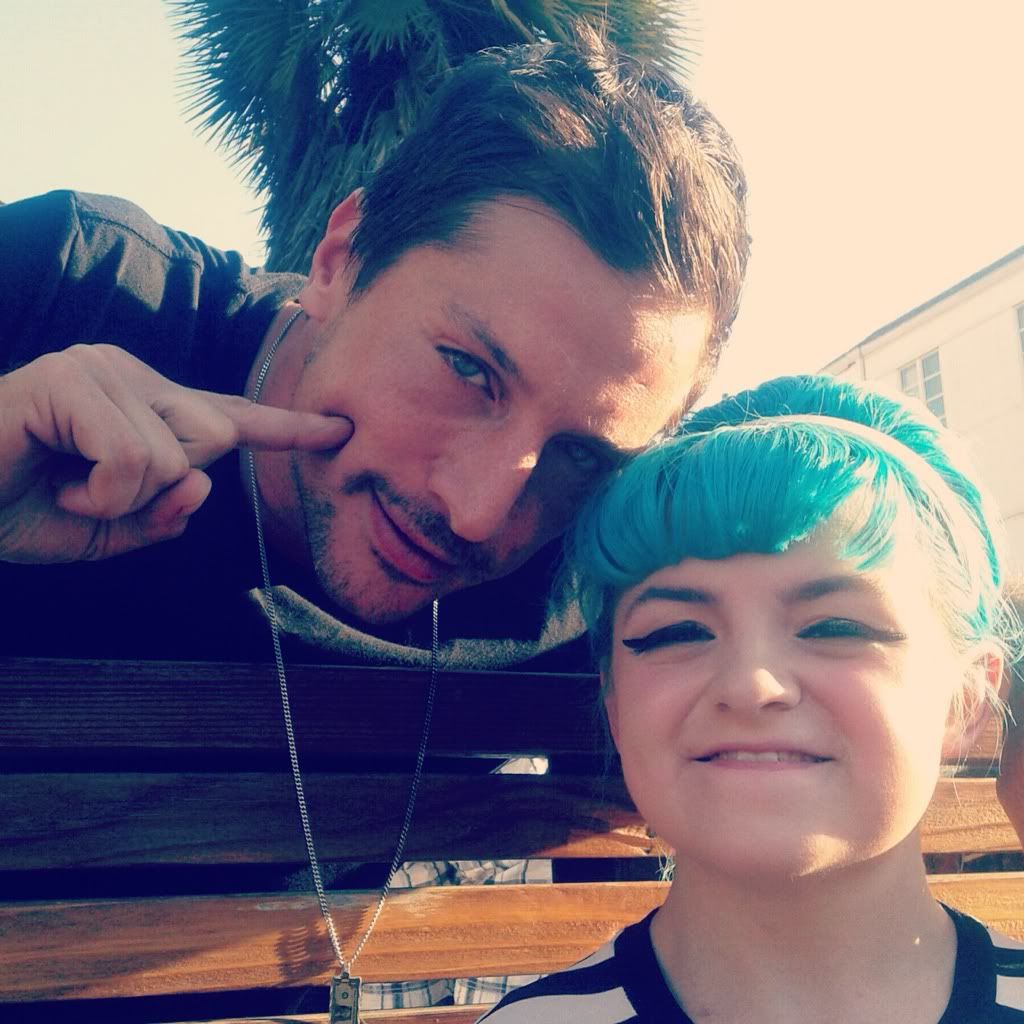 We turned around and spotted Shifty Shellshock from Crazy Town. (You know... "Come my lady... Come, come my lady... You're my butterfly... Sugar, baby...") We met him before, so it was nice to see him again.
Bad Religion's show was next. Since they're pretty popular around here, I expected them to put on a great performance. But unfortunately, I didn't get to see the whole thing.
And the dudes in The Offspring were pretty fly for white guys, hahaha... They did pretty well. There was a better mood in the atmosphere, although as people were singing along, they were all yawning, exhausted from the heat.
We chilled out in a tattoo shop till we heard eerie, dark music shake the windows. Again, we headed outside REALLY excited for Manson! With my mother close by, I squeezed in to put my foot on a railing. Eventually, the big black curtain dropped to unveil the stage, making people from all over the festival come rushing in.
Right as Manson pulled out a knife, I attempted to stand on the railing to see him, but the girls I was in between kept pushing me away, calling me names and bragging about how long they've been waiting. (I wanted to say, oh yeah? You've waited for five hours?! I waited for SEVEN!) I tried again, and again, and when I could finally see him, their shoulders pinned me. One pushing into my sternum, and the other in my spine. There was no other thought in my mind other than the fact that I was suffocating. It was so scary... My vision blurred, and I couldn't breathe. With all the strength that I had at the moment, I forced myself free and fell into my mom's arms, hyperventilating and gasping for air. She screamed at them saying that I was only a child.
She dragged me back into the tattoo shop and I was a complete mess. Crying, almost falling to the ground... I felt so weak with my legs shaking violently under me. She guided me to the couch and I laid back, drinking water and wiping my tears with the tissue one of the people that worked there gave me. That moment was absolutely terrifying. I'm unsure about how long the scene lasted, but it seemed so long... I felt like I was going to suffocate to death.
Later, my attention gravitated towards the window. Even though I wasn't outside didn't mean I couldn't enjoy the show. So I slowly walked closer to get a better view but instead, saw the depressing darkness of the stage. Just as I thought the show was over, my face perked up as I heard the VERRRRY familiar sound of an organ. Then of a guitar... Soon, the lights shined upon not only Marilyn Manson, but the remaining Doors, Ray Manzarek and Robby Kreiger.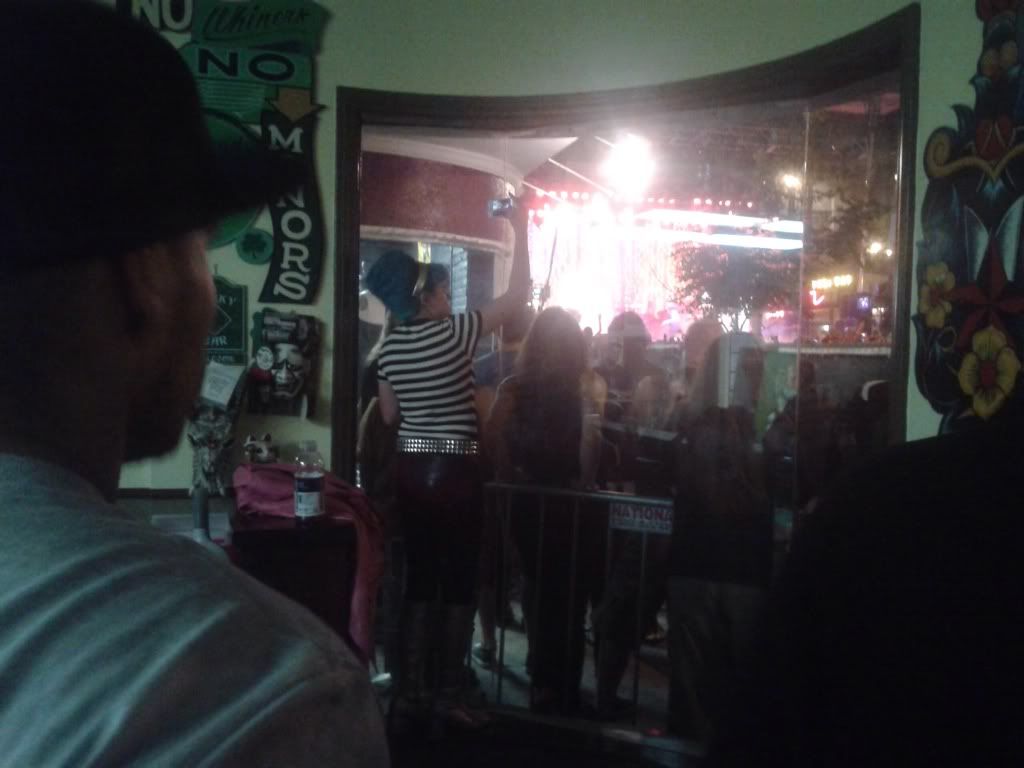 When they started playing "People Are Strange", the tears returned and my legs began to shake again. This time, I was happy. I've been a Doors fan for a few years and I remember that when I visited LA, they were the soundtrack for that week-and-a-half. I was obsessed with them, visiting the places they went to and walking on the same ground as them. After the visit, I read every book I could find on them, and got all their albums... I've found so much acceptance and freedom here, in LA and The Doors represent my journey here. They mean so much to me... I never in my life would have ever thought that I would get the honor to see them on stage, and there they were.
Manson was amazing. He immediately became possessed with Morrison's spirit. Every lyric, every move... Even the facial expressions! You could just feel his spirit all around... The performance was so powerful... It was almost as if Jim was on stage himself.
They only did two other songs together, "Love Me Two Times" and "Five To One", but the experience was so amazing. At the end, he picked up Robby as he hugged him, and Ray propped his foot up on his organ. They all looked so happy together. Instead of Bono or John Travolta (they actually considered him for Jim's role in the band!), they should have Morrison--AHEM! I mean--Manson play with them more. He's truly amazing...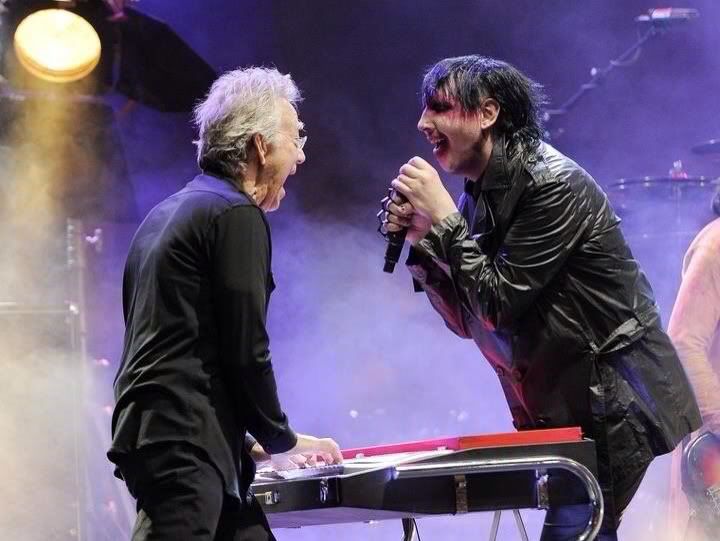 BUT THE SHOW WAS NOT OVER!
The stage returned to darkness and lit up to a podium. On the podium, there were several microphones which he knocked over to show expression for "Antichrist Superstar", the song he was performing. Then out came a book that he ripped pages from, throwing them and eating them. He then threw it into the mosh-pit making the fans go crazy.
He didn't really announce WHEN he was done, he just kinda... Left. But the show was so moving with the Doors, and amazing and spectacular with Manson. Personally, in my opinion, SSMF last year was so much better. Not just because the weather was nicer, but because the bands, Crüe, Bush and Public Enemy, brought good vibes and energy to their performances. But I enjoyed my time there. The whole thing was hot and tiring until Manson went on, and he just made the whole thing better. However, I wish that he would've done "The End" with Ray and Robby...
Anyway, we had fun, this year was quite an experience, and I hope they get bands in next year of even more diverse genres and performances. Actually, they should let people vote on who they would like to play there...
I can hardly wait for next year to see who plays! And I hope that global warming stops... :(