Saturday, August 18th, was my sixth(?) week at Comedy Camp. I didn't post about it last week l, so I will compare then to my most recent performance.
So first, let's talk about last week.
It was okay. I didn't do well due to lack of sleep, but it was okay. I let my exhaustion take over my performance which left me spacing out and almost forgetting what I had written! Also, that was a pretty slow day and so Jamie (Masada) called this a "practice round". There's not too much to say about this one.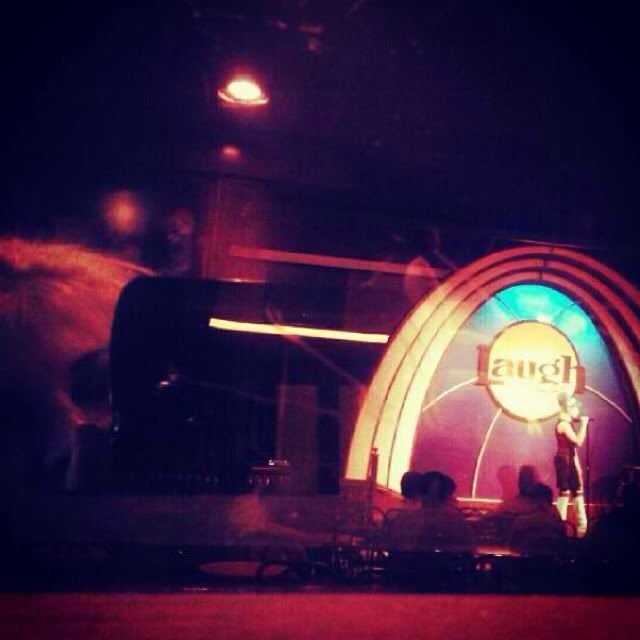 However, this week as so much better... With plenty of rest, my jokes remembered, and some confidence, we headed down to the Laugh Factory. Before anyone went up, Marinzio Vance, the guest comedian from this week and the week before, gave out notebooks he bought to the kids who didn't have one. That was sooo sooo sweet of him to do, since some of the kids in this camp may not be able to get one.
This time, I sat real close to the stage so I wouldn't have any trouble getting up there. When my name was called, I went up, but before I grabbed the mic I took my jacket off and placed it on the bar stool. When he was giving me feedback, Maronzio explained the move as looking like "you were gonna kick someones @$$"! But I have an actual reason for taking it off... The jacket is almost like a security blanket for me. I feel safe in it. So for this performance, I took it off to "challenge" myself a bit. And also, it's very cold in there so THAT woke me up!
I asked him if there was anything I needed to work on or improve on and he seemed to be a bit surprised by that question and even considered me brave for asking it. I don't really think it's really all that brave, though... I just want constructive criticism so that I can learn from the mistakes I may making. He said that I should build on to my jokes more with some more details.
So with THIS performance compared to the LAST one, I have definitely improved. I hope that next week will be good and that Dane Cook comes back! I even have a special joke for him. :)