I know it's taken me quite a while to catch up on my posts, but I've been having camp withdrawals for the past two weeks. That's right. It's over... I'm sad, but it has been such an amazing experience. Those weeks at the Laugh Factory changed me life so much. I used to be so shy, timid, and afraid to do anything like performing.
So let's talk about the graduation show. When we got there, the kids had to go in separately from the adults. Since the adults were the audience, they had to wait outside all lined up as if it were an actual show!
Two comedians, ugh... I can't remember their names, got us motivated for our upcoming performances by talking to us, making us less nervous. Unfortunately, Dane Cook wasn't able to make it to the party, so I wondered who would be the MC for the night. After that, we were led upstairs into the VIP section. That was like our backstage and it was NIIIICE! Nice furniture, nice lighting... And to top it all off it had a chandelier! We also got drinks and nachos! (Don't worry, we all had water and soda.)
Although the atmosphere was calm, I wasn't. I was still ill at this rate and I was terrified that my voice would sound all hoarse... And to add to that, I was going to have a real audience this time. I know that they mostly consist of friends and family of the other camp kids, but still. I know very few of them and that meant I was performing my material to people I don't know. But then I thought, "Well didn't I have to deal with that problem the FIRST DAY of Comedy Camp?!". I eventually got over it and went to my friend who brung a special gift for Jamie Masada. Since we were presenting it to him, we were trying to to figure out how exactly we would give it to him.
But then fear struck my nerves again when we were split into groups of four. Thank god I wasn't one of the first people to go up... It's not that I didn't remember my routine, it's just too soon for me. For some reason, I need to feel the atmosphere and feel the energy before I get on stage. We were lined up by the stairs on the balcony so that meant that we could watch the other kids perform. That made me feel better. And the audience's response was good too. I started to feel more confidence for this night realizing that this was a brand new audience in a different way. It'd be different than performing in front of the same crowd every week and that was a great thing.
On our way downstairs, I saw one of our guests Maronzio Vance and I was thrilled to see him again. We hugged and he wished me luck, but my heart was still pounding. As each kid got off stage, my nervousness grew, making my coughing worse and anxiety higher. The whole night I kept praying that everything would go alright... This was my last chance at doing this right for camp and I didn't want to screw it up.
We had two MC's. Paul Rodriguez and KEVIN FREAKING NEALON (since I watched a lot of SNL when I was 'growing up' I was so so happy!!!)!! I wanted this performance to roll by smoothly and calmly with all the material remembered. So when Kevin called me onto the stage, I ran up as fast as I could and took the mic off the stand perfectly. Now I'm not trying to be conceited or anything, but I am so happy and pleased with my performance. The people were laughing, I took my time, I remembered everything... It was wonderful. It FELT wonderful...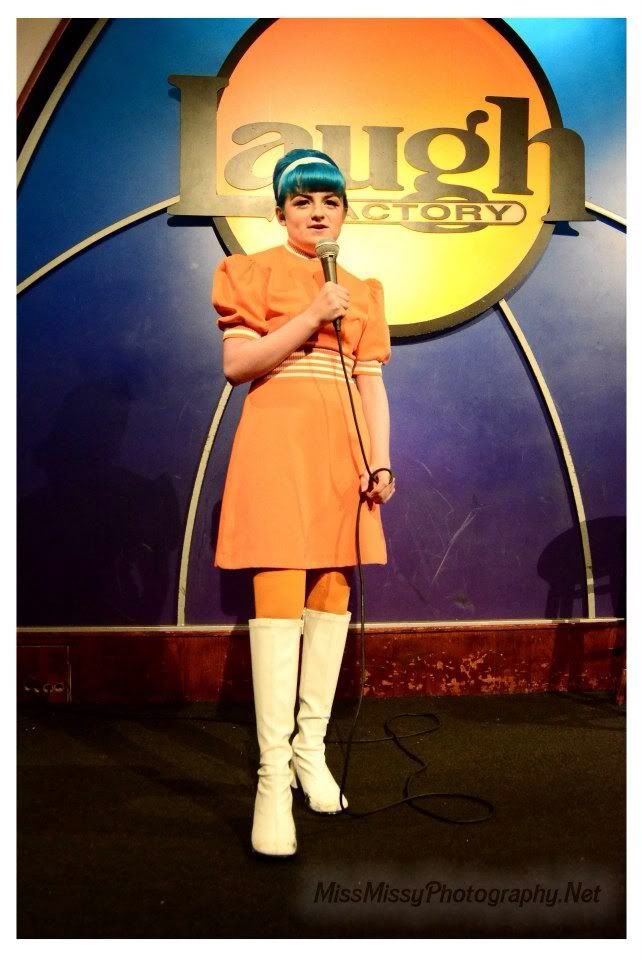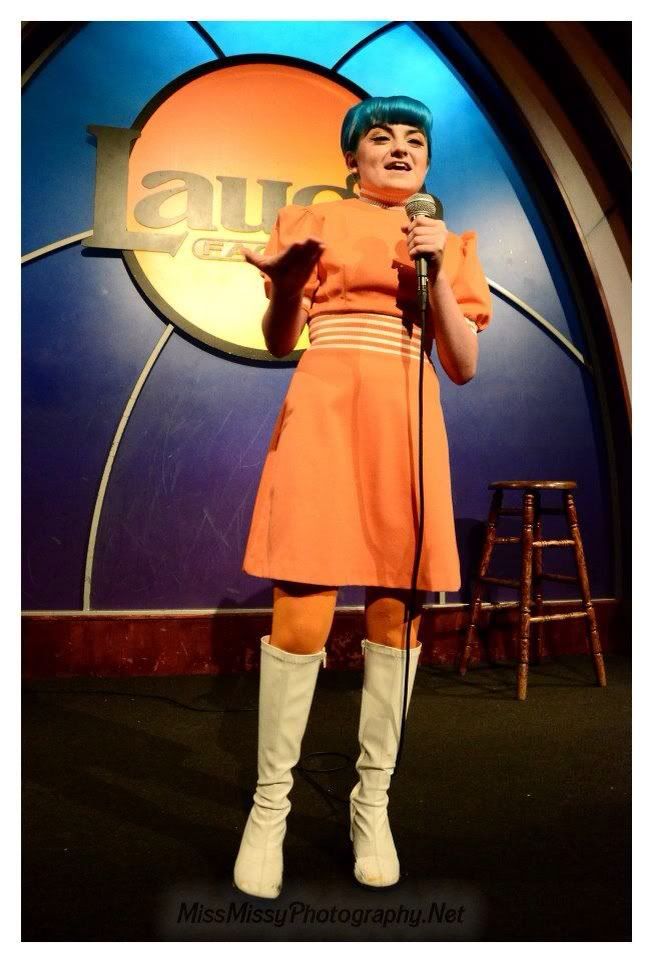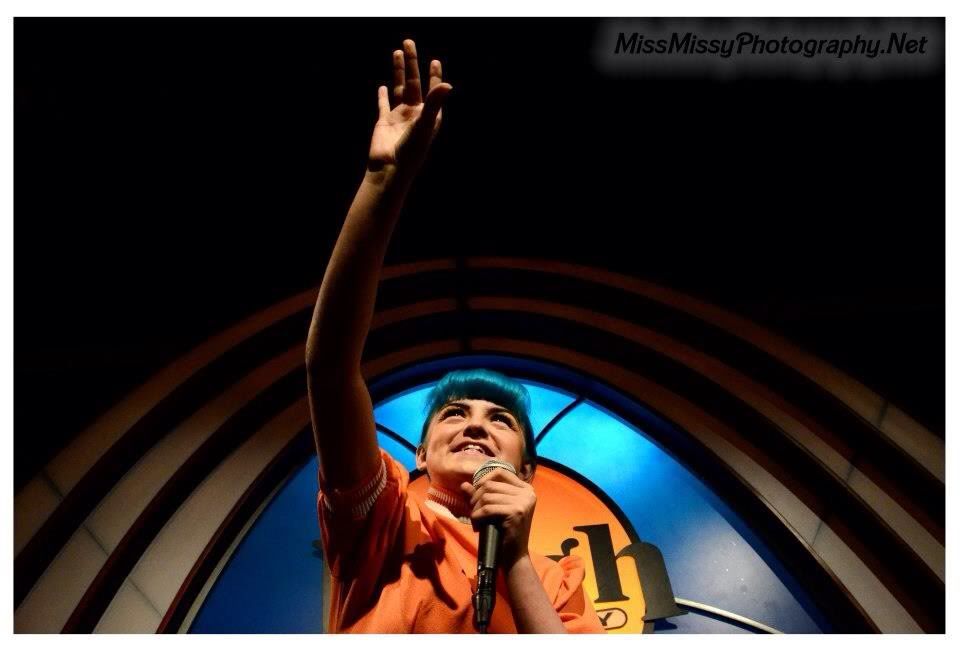 I did my last joke, which was about WeHo Jesus and my act ended with an Amen. I stepped off stage and Jamie grabbed my hand and smiled at me, looking very proud. A few more performances later, all of us got up on stage and Jamie did a little speech about how proud he was of us and me and my friend finally got to present the gift, which was a plague thanking him for his dedication to helping us young children with such an amazing program and although he seemed to be happy, he couldn't take a compliment. Each week of camp, he flew in from Chicago straight from the LF camp there! He's always helping others. He even feeds the homeless on thanksgiving! He is such a great person, so selfless but he doesn't think he deserves anything for it. I look up to him. That man is a true inspiration.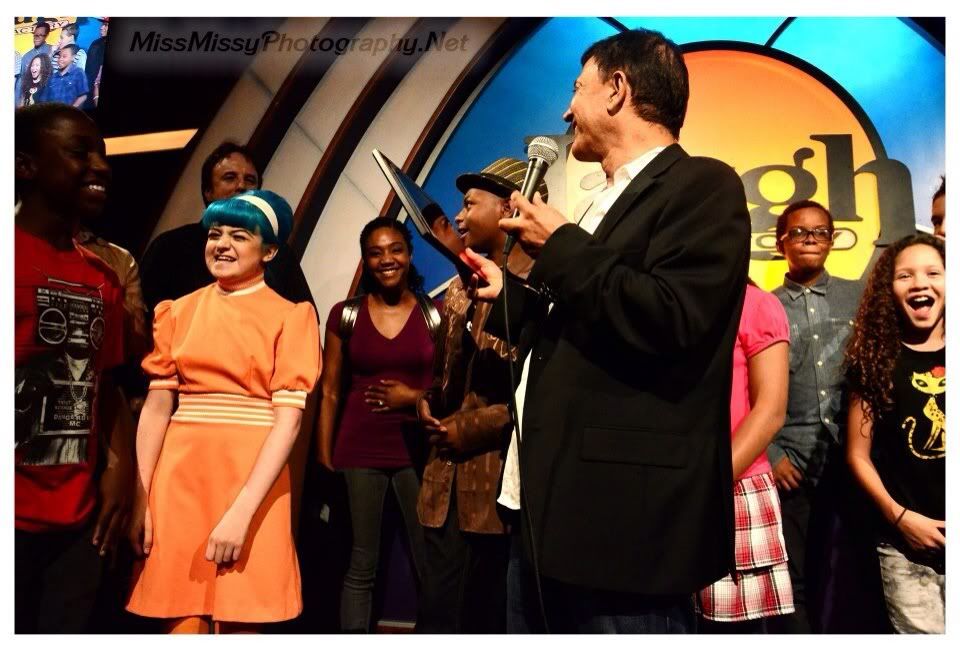 When my diploma was handed to me, that was truly a moment of glory. I've never won anything like this before and so I treat that framed piece of paper with loads of care and respect as well as my first paycheck. I also got a special Comedy Camp jacket, too! But my happiness didn't revolve around the diploma or even the money. This whole experience of being on stage and being able to perform is a gift that I am so honored to have now.
Camp has given me so much confidence, courage and strength that I never thought I would have and I cannot thank the people who helped us at the Laugh Factory enough... My mom found out about it when she saw an ad for it when she was checking her email one day and when we looked up more information on it, we decided that it would be good for me. But I didn't expect for it to work so well. The first week of camp I remember feeling so scared that I made myself feel sick. Now I feel almost fearless. Now... I am a proud graduate of the Laugh Factory's Comedy Camp.
But the night wasn't over yet.
All of us went back to the VIP area along with the audience. We took tons of photos, I was thanking the staff a million times and some more comedians made it back like Finesse Mitchell, Maronzio Vance (whom I mentioned before) and Alex Scott who gave us signed replicas of the bandana he wore! I got some cake and goodies and even signed my first autograph!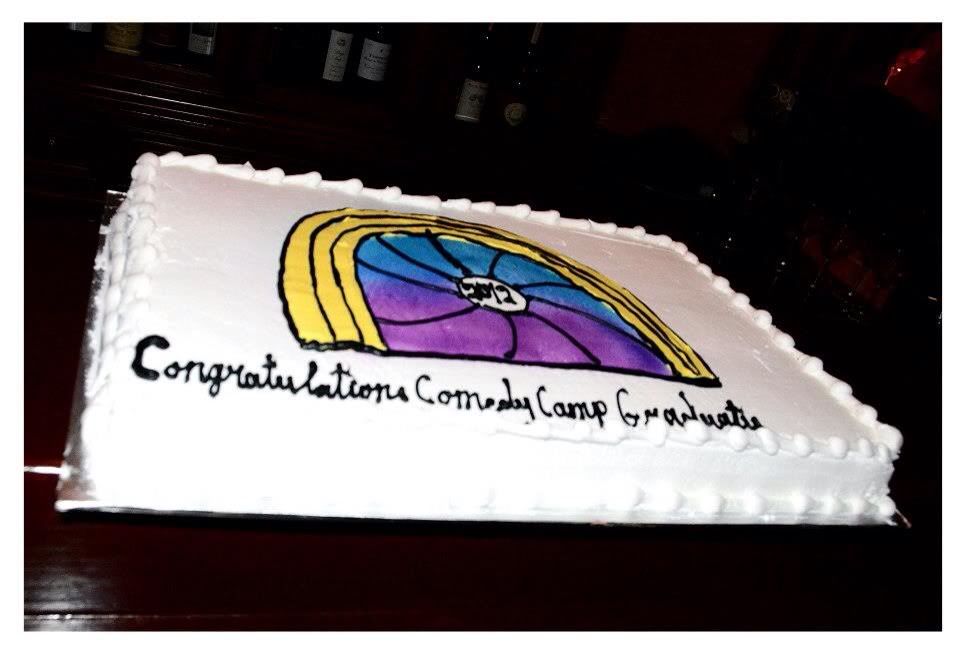 The whole night was absolutely amazing, but it got even better.
My mom and I were talking to Mac Duffy and his wife about camp and I began to get a little sad. Something that was so wonderful for me was coming to end and I was truly going to miss those Saturday mornings there...
I was about to cry, but just as we were about to leave, WEHO JESUS SHOWED UP! We couldn't believe our eyes... This was so ironic! We've met quite a few times before, but I guess he was a bit surprised to see me. I told Jesus all about the camp and he recorded me telling the joke about him. We mingled for a while longer, and then we finally said our goodbyes to everyone.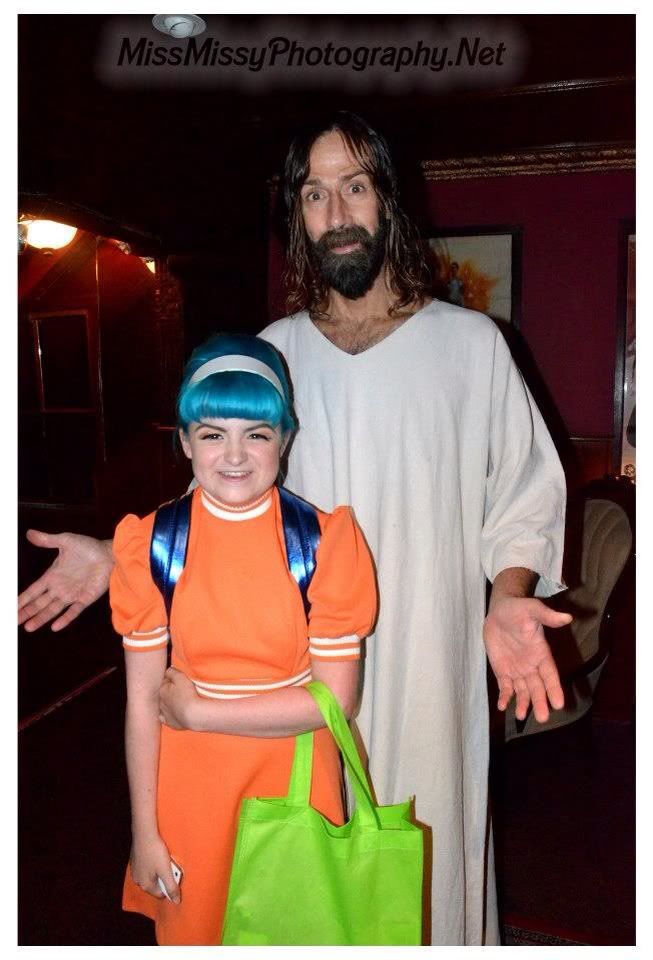 It was very sad that camp had come to a close, but I am so proud of my accomplishments. I've never really considered doing comedy, but now that I have some experience and a great start, I'm preparing more jokes to hopefully perform at another show there someday.
If I had to describe this whole event in one word, it would be:
Magic.
I would love to give a VERY, VERY SPECIAL THANKS to Jamie Masada, Christina Shams, Mac Duffy, Eman Morgan, Joy Barr, Tiffany Haddish, Maronzio Vance, Chris D'Elia, Alex Scott, Finesse Mitchell, Dane Cook, Kevin Nealon, Paul Rodriguez, Ian Edwards, Joey Medina, Tony Rock, and Jim Tavare for teaching me one of the biggest lessons I could ever learn in life. I will forever treasure it.